June 26, 2018 |
Shelley Mitchell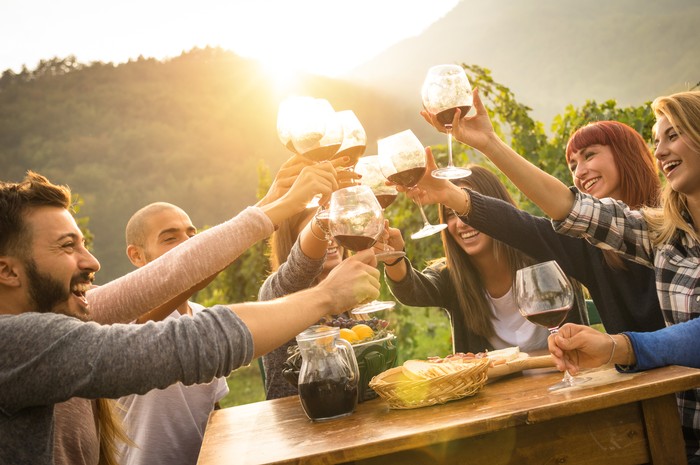 Summer is here, and it's a great time to enjoy the sights and sounds along Amador County's first wine trail. Besides the beautiful vineyards, there's never a dull moment at any of our wineries. Here are some of the highlights so far, and some events you can look forward to.
Bella Grace Vineyards
There's no shortage of great music to be heard throughout the network of wineries associated with Start on Steiner. Recently, Bella Grace played host to the Wicked Sisters, who have been making great music in and around Amador county since 2007.
If you need something to sip while listening to great music, consider Bella Grace's 2017 Rosé. This delicious vintage claimed double gold at this year's San Francisco Chronicle Wine Competition and a gold medal at the "Drink Pink Vino International Rosé Wine Competition."
You can enjoy it and other wines this 4th of July during their normal tasting hours.
Charles Spinetta
Wine may be leaving, but the animals are coming. The folks at Charles Spinetta are saying goodbye to the last remaining bottles of Chenin Blanc, Heritage Red, and Zinfandel. If you're looking for those favorites, be sure to contact the winery to see if they are still in stock.
As you may have guessed based on their fabulous label design, the team at Chales Spinetta are fans of wildlife. Tune into their Facebook page to watch for plenty close encounters. Recently, they've crossed paths with Killdeer eggs, ducks, toads and a turtle.
Deaver Vineyards
The wines of Amador County are winning big at various festivals and competitions, and Deaver Vineyards is no stranger to top marks. They recently entered 5 wines into competition at the Amador County Fair and returned with 5 medals! In fact, the 2015 Ten Zins got "Double Gold" again.
But if you're looking for a particularly refreshing summer sipper, try Deaver Vineyards recently released Raspberry Sparkling.
Dillian Wines
Dillian Wines has hosted a number of fabulous events in association with their brand new releases. They kicked things off this spring with a Sauvignon Blanc and street tacos party. Not to be outdone, their Zinfandel got a fine release of its own being sampled alongside some delicious pizza. Be sure to tune into their Facebook page to keep up with their latest events.
Iron Hub Winery
Like many of the wineries that are part of the Start on Steiner family, Iron Hub Winery knows how to throw a great music event. They have a number of fantastic musicians coming to their property including upcoming guests like Jesse Hendricks and Tom Powers.
And if you're looking to have some fun around the upcoming Fourth of July weekend and beyond, be sure to join Iron Hub Wines for their Red, White & No Blues events. While celebrating America's Independence, you'll have the opportunity to sample some fantastic library wines and learn the history of the winery.
Renwood Winery
If you love world class Zinfandel paired with music and more, you'll want to check out Renwood Winery's Sip, Savor & Sounds events. You can try a flight of wine or order by the glass while listening to the fantastic music of Christopher Gene.
And if you love competition, you can't miss the first annual Shenandoah Smackdown. This event places Renwood Winery against Paul J. Wines in a wine pairing showdown. With a four-course meal crafted by Chef Beth Sogaard, attendees will taste wines with each course and vote on the best pairing.
Sippin' On Steiner

If you're a fan of all the wines that Amador County has to offer, you can't miss out the must-attend event of summer: Sippin' on Steiner. On Saturday, August 11, you'll have the opportunity to experience all the wineries in the Start on Steiner family. In addition to one-of-a-kind opportunities to taste library wines, experience amazing pairing and enjoy music and art, you'll get a commemorative logo glass too!
This event will sell out, so be sure to book your tickets today by contacting Jennifer Hunt at (209) 245-6979 ext. 217.