Bella Grace Vineyards, Deaver Vineyards, Dobra Zemlja Winery, Iron Hub Winery, Linsteadt Family Vineyards, Rombauer Vineyards, and Shenandoah Vineyards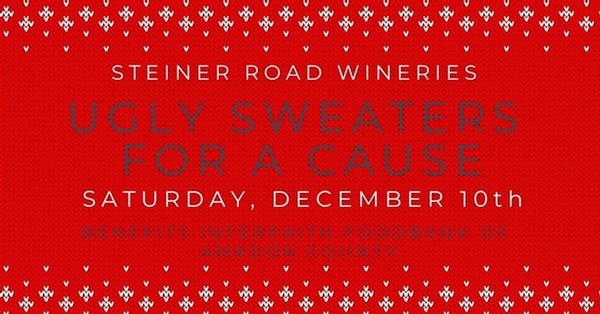 Join select wineries on Steiner Road on Saturday, December 10th as we celebrate the holidays and give back to our local community with a food drive benefiting the Interfaith Foodbank of Amador County.
Guests who donate at one of the participating wineries listed below a minimum of six in-date, non-perishable food items will receive a wristband (maximum of two wristbands per donation) valid for the following special offers at each of the participating wineries on Saturday, December 10th.
Don't forget to wear an ugly sweater!
Participating Wineries and Special Offers
Bella Grace Vineyards
Event participants will enjoy a complimentary wine tasting and a 15% discount on a 4 bottle purchase (can be combination of wine, olive oils and/or balsamic vinegars). (209) 418-5040 or bellagracevineyards.com
Deaver Vineyards
Event participants will enjoy a complimentary wine tasting at Deaver Vineyards.
(209) 245-4099 or deavervineyards.com
Dobra Zemlja Winery
Event participants will enjoy a complimentary wine tasting and a 10% discount on wine purchase.
(209) 245-3183 or dobraz.com
Iron Hub Winery
Event participants will receive our Inner Circle Wine Club discount on their wine purchase when wearing an ugly Christmas sweater to the tasting room on Saturday, December 10.
Reserve your tasting at (209) 245-6307 or ironhubwines.com/visit
Linsteadt Family Winery
Event participants will enjoy a complimentary wine tasting and 15% discount on a four bottle purchase.
(209) 660-3731 or linsteadtwinery.com
Rombauer Vineyards
Event participants will enjoy a complimentary wine tasting and a special library pour.
(866) 280-2582 or rombauer.com
Shenandoah Vineyards
Event participants will receive complimentary tastings and an additional 10% off their purchase in the tasting room.
(209) 245-4455 or sobonwine.com