---
Steiner Road Events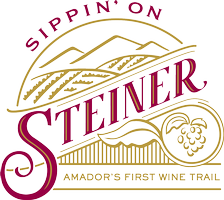 Sippin' on Steiner
Saturday, August 28
10 a.m. - 4 p.m.
Summer is here and it's a great time to enjoy the sights and sounds along Amador County's first wine trail. Our annual Sippin' on Steiner event, gives you the opportunity to take in these spectacular summer views while sippin' on our diverse selection of Steiner Road wines.
Each of our nine wineries will be offering exclusive experiences ranging from wine pairing with small food bites to barrel tastings and special discounts. Tickets are $55 and provide you access to reserve up to five wineries during the reservation windows listed below. Designated Driver tickets are only $15/ per person. Plus, you'll be able to taste from our newest winery on Steiner Road, The Linsteadt Family Winery.
Join us at the end of August to relax and enjoy the finesse, elegance and diversity of the Steiner Road wineries, Amador's first wine trail. The event will sell out and tickets must be purchased in advance.
Ticket Includes:
'Start on Steiner' logo glass
Exclusive pass holder tastings, pairings, small bites and wine specials
Access to five of nine winery tastings on Steiner Road
How to Book Your Reservations:
After purchasing your ticket online, please call each winery to reserve your time slot for your group of up to six people.
Reservations are every 75-minutes. This will provide you with a 60-minute tasting and 15-minutes to get to your next destination.
Each winery can only be booked one time per group.
You may book up to five locations for the event.
Reservation Times:
10:00 a.m.

11:15 a.m.

12:30 p.m.

1:45 p.m.

3:00 p.m.
Make Your Reservations:
(209) 418-5040
No Appointment Required
(209) 245-4099
(209) 245-3183
(209) 660-3731
(209) 245-6307
(866) 280-2582
209-245-4455
Please Note: Each winery can only be booked one time per group.
You may book up to five locations for the event.
Winery Event Offerings:
Charles Spinetta Winery
Charles Spinetta Winery will be open with up to 35% off wines and art! The tasting bar will be open to ticket holders and no appointment/reservation is required. Reserve: No Appointment Required
Driven Cellars
Driven will be showcasing our newest releases for the first time for our Sippin' on Steiner guests. Reserve
Dobra Zemlja
Join us as we bring a taste of the Dalmation Coast to Steiner Road with a select flight of our hearty, unfiltered wines with seasonal mali ( little) bites. The tasting will include an educational barrel tasting and not-to-be-missed wine specials. Join Amador County's first wine cave and experience our 'Big Amador reds, No Lightweights.' Reserve: (209) 245-3183
Iron Hub Winery
Come celebrate summer with Iron Hub on our patio. Start with our estate Rosé, paired with cheesy baked Mac & Cheese and enjoy our iron Hub Old Vine Zinfandel, paired with pulled pork sliders. Additional wines are available for tasting and purchase. Reserve: (209) 245-6307
Deaver Vineyards
Join Deaver as we showcase our latest release for the first time! Paired alongside small food bites, this is a tasting you won't want to miss. Special discounts will also be available on wine and merchandise purchases. Reserve: (209) 245-4099
Bella Grace
Enjoy panoramic views of the vineyards and the surrounding hillsides while tasting Bella Grace, award winning wines, including the Best of Show, Grenache Blanc. Red wines will be paired with summer food offerings including, tomato bruschetta with a black bean salad and seasonal vegetables. All food pairings will be dressed with a combination of Bella Grace olive oil and imported balsamic vinegar. Reserve: (209) 418-5040
Linsteadt Family Winery
We're the new kids on the block! Join us for wine tasting and charcuterie plates featuring handmade Italian focaccia. We'll be pouring our Sauvignon Blanc, Rosé, Zinfandel, Barbera and our (Gold Medal Winning) Petite Sirah. Plus, we'll be hosting a barrel tasting with our winemaker featuring the 2020 Barbera Zinfandel Estate blend. Reserve: (209) 660-3731
Shenandoah Vineyards
We will be catered by the Pacifica Coast Pasta Company alongside a tailored wine list to pair Italian bites with our newly released Cabernet Franc and summer ready volo Dolce. Exclusive case discounts will be available to ticket holders. Reserve: 209-245-4455

Rombauer Vineyards
Celebrate summer with Rombauer Vineyard! We will be offering two food pairings from Chef Micah at Taste Restaurant. The featured pour will include our Merlot and newly released vintage of Chardonnay, along with a couple of other wines. Relax on our shaded patio; we can't wait to host you! Reserve: (866) 280-2582
The Fine Print:
All ticket sales are final. No refunds will be offered.All attendees must be 21 years of age or older to attend. Provide Photo ID at check-in. Prior ticket purchase is required. Limited tickets are available. The event will sell out. Each group is responsible for making their own reservations. No minors. We apologize, but due to the adult nature of the event, we will not be able to accomodate minors.